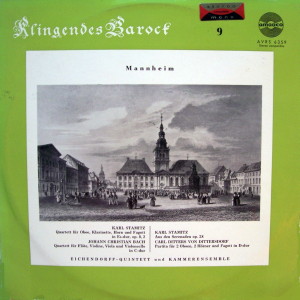 1 LP - Amadeo AVRS 6359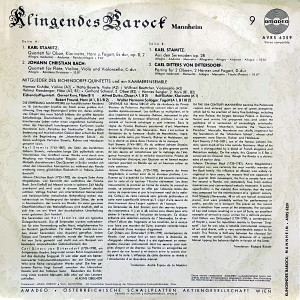 | | | |
| --- | --- | --- |
| MANNHEIM - Klingendes Barock - 9 | | |
| --- | | |
| Karl Stamitz: | | |
| 1. Quartett für Oboe, Klarinette, Horn u. Fagott, Es-dur, op. 8, 2 | 9' 42" | A1 |
| - Allegro moderato · Andante · Rondo/Allegro | | |
| | | |
| Johann Christian Bach: | | |
| 2. Quartett für Flöte, Violine, Viola und Violoncello, C-dur | 10' 07" | A2 |
| - Allegro · Rondeau/Grazioso | | |
| | | |
| Karl Stamitz: | | |
| 3. Aus den Serenaden op. 28 | 10' 52" | B1 |
| - Allegro · Andante · Menuetto · Allegretto · Allegro · Andante · Allegro | | |
| | | |
| Carl Ditters von Dittersdorf: | | |
| 4. Partita für 2 Oboen, 2 Hörner und Fagott, D-dur | 10' 47" | B2 |
| - Allegro moderato · Menuetto · Adagio · Menuetto · Finale (Presto) | | |
| --- | | |
| | | |
| --- | --- | --- |
| KAMMERENSEMBLE | EICHENDORFF-QUINTETT | |
| - Momoo Kishibe, Violine (A2) | - Gernot Kury, Flöte (B1) | |
| - Hatto Bayerle, Viola (A2) | - Alfred Dutka, Oboe (A1, B2) | |
| - Wilfried Boettcher, Violoncello (A2) | - Rolf Eichler, Klarinette (A1) | |
| - Helmut Riessberger, Flöte (A2, B1) | - Robert Freund, Horn (A1, B1, B2) | |
| - Gerhard Schiessl, 2. Oboe (B2) | - Walter Hermann Sallagar, Fagott (A1, B1, B2) | |
| - Hannes Sungler, 2. Horn (B1, B2) | | |



---





Luogo e data di registrazione


-





Registrazione: live / studio


studio




Edizione LP


AMADEO - AVRS 6359 - (1 lp) - durata 41' 28" - (p) 1966 - Analogico




Altre edizioni LP



MUSICAL HERITAGE SOCIETY - MHS 528 - (1 lp) - (1)
MUSICAL HERITAGE SOCIETY - MHS 524 - (1 lp) - (3. 4)
MUSICAL HERITAGE SOCIETY - MHS 545 - (1 lp) - (2)





Prima Edizione CD


-




Note


Stereo compatibile






---



IN THE 18th CENTURY MANNHEIM became the Palatinate capital and entered upon an era of great prosperity, which led to the erection of many fine buildings, including the new Palace, the largest baroque Palace in Germany. Social and artistic life prospered too, and under the guidance of a succession of exceedingly artistically-minded Princes Mannheim became the "musician's Paradise". Musically, Mannheim was chiefly important for the foundation of the "Mannheim School", whose chief exponents were Stamitz, Richter and Holzbauer.
Karl Stamitz (1745-1801), son of the famous Johann Stamitz, spent much of his time outside Germany. Most of his work is distinguished by a blend of French elegance and Mozartian melody. On the whole, this Quartet in E flat is conceived on classical lines, though the Rondo is a distinct echo of earlier days.
Johann Christian Bach (1735-1782), Anna Magdalena's youngest son, was certainly the most worldly member of the Bach family. His influence on Mozart was widely recognised in later years, for reasons that are apparent in this quartet. Both movements, the first in sonata form and the second a Rondo, are completely free from archaic mannerisms and conventional melodic treatment. A certain superficiality in the melodic flow indicates that the work was composed for the entertainment of a "galant" society. Karl Stamitz's Serenades, 48 in all, are typical occasional pieces, and were probably written for performance in public, possibly at a banquet. The pieces on this record are a selection from seven of the serenades, the variation of key and tempo resulting in a sort of Suite, an excellent example of attractive music written for a definite purpose. Carl Ditters von Dittersdorf (1739-1799), a contemporary of Haydn's, owes his reputation mainly to German "Singspiel"; but he was also a notable instrumental composer of wit and charm, with a very considerable output to his credit. This Partita is half-way between the classical Sonata and the earlier Suite, the presence of a second Minuet tipping the balance slightly in favour of the latter.
Alfons Übelhör
(Translation: Richard Rickett)