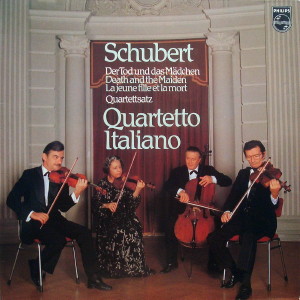 Philips - 1 LP - 9500 751 - (p) 1980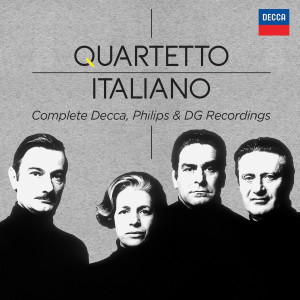 Decca - 37 CDs - 478 8824 - (c) 2015
| | | | |
| --- | --- | --- | --- |
| Franz Schubert (1797-1828) | | | |
| --- | | | |
| String Quartet No. 14 in D minor, D 810 "Death and the Maiden" | | 39' 38" | |
| - Allegro | 12' 39" | | |
| - Andante con moto | 13' 45" | | |
| - Scherzo. Allegro molto | 4' 05" | | |
| - Presto | 9' 09" | | |
| | | | |
| String Quartet No. 12 in C minor, D 703 "Quartettsatz" | | 11' 21" | |
| - Allegro assai | 10' 21" | | |
| --- | | | |
QUARTETTO ITALIANO
- Paolo Borciani, Elisa Pegreffi, violino
- Dino Asciolla, viola
- Franco Rossi, violoncello






---





Luogo e data di registrazione


Musica-Théâtre, Salle de Musique, La Chaux-de-Fonds (Svizzera) - 21-24 ottobre 1979




Registrazione: live / studio


studio




Producer / Engineer


Wilhelm Hellweg | Willem van Leewen




Prima Edizione LP


Philips | 9500 751 | 1 LP | (p) 1980




Prima Edizione CD


Decca | 478 8824 | 37 CDs - (30°, 5-8, 9) | (c) 2015 | ADD




Note


-






---



Schubert's quartets date from between 1812 and 1826 and hence were contemporary with the quartets of Beethoven's middle and late periods; as both composers were living in Vienna, this proximity of time and place for a long time led to Schubert's works being compared with those of Beethoven, the latter being seen as a model against which other developments and deviations were to be judged and often censured. There can be no doubt that Beethoven's music was of great importance to the younger composer, yet there is equally no dout that his influence has been overstomated for in Schubert's early works it is rather Haydn who is the major model while in his mature works from 1820 onwards Schubert's is so very much an independent composer that such models are no longer relevant.
The quartet movement in C minor, D. 703, which was all that was completed of a planned quartet begun in the winter of 1820, ist the first to show a new fevel of compositional thought after numerous derivate quartets of his younger days. Einstein wrote that "there is no bridge leading to it from earlier quartets," and the only pointers to Schubert's immediately preceding development are to be found in the similarly unfinished sonata fragments for piano of 1817-19. In the "Quartettsatz" there is a strikingly imaginative free handling of sonata form, which had hitherto served as a formal scheme of unquestioned rigidity; now, however, Classical principles of construction appear to have only a limited relevance since Schubert is no longer proceeding from differentiated types of theme but from contrasting gestures; thus the dynamic and dramatic opening takes the place of the first-subject group, even though it many not settle into a fixed melodic shape. The prevailing features here are sheer sonority, dynamism, movement, and rhythmic ostinatos; by contrast the tuneful lyrical section representing the second subject is so solidly constructed as a self-contained song-like melody sealed off from the rest that in the context of the whole movement its effect is somewhat static and episode-like; it provides the characteristic sound and structure of a slow movement, and this may have induced Schubert to break off work on the second movement - of which a fragment in A flat 41 bars long has survived - as being tautologous.
Tunefulness is also a key word in describing the D minor Quartet D. 810, which was begun in 1824 but not completed until 1826 and first performed at a domestic concert in the home at the court singer Josef Barth. As in his previous A major Piano Quintet D. 667 here again Schubert quotes from himself, he based the slow movement on his setting of Matthias Claudius's poem "Death and the Maiden" (D. 531) from 1817. With its pervasive minor mode appearing in all four movements and alleviated only at the close of the slow movement and in the trio of the dance movement this is the most melancholy and at the same teme, the most dramatic of Schubert's quartets. The thematically open and rhythmically active introduction to the first movement shows some kinship with the C minor "Quartettsatz," the difference being that here the distinctive rhythmic figure permeates the entire work and binds it into a cyclical unity. Once again we find a trasnsformation of the usual functions within sonata form motivic working yelds in importance to the play of harmonic colours, oflayered rhythms and the structurally vital contrast between triplets and dotted rhythms. By contrast the construction of the variation movement is almost suspiciously simple a theme composing 24 bars, five variations which leeve its harmonic articulation and format construction intact, and a coda which leads back to the theme. after this point of repose, the dance movement, with its tension between the syncopated scherzo and the calm. Ländler-like, even almost sweet D major trio, sparks off a fresh contrast which flares up in the finale a raging broadly laid-out Presto encompassing well over 700 bars. Its articulation and sonority appear to have been conceived in almost orchestral terms broad unisons involving all the instruments, expansive washes of sound with varying rhythmic structures applied to them. Here we may find a manner of writing which has very little to do with the analyctical principles of Beethoven's technique but eather looks forward to the work of such composers as Bruckner, Hugo Wolf and Gustav Mahler.

Wulf Konold